Our design team has been working on a very exciting option for our ThinTank range of rainwater tanks.
Create A Vertical Garden On Your Existing Water Tank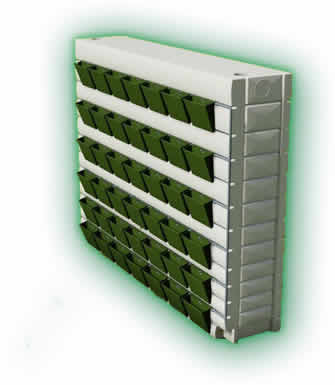 Currently nearing design completion is the "ThinPot Vertical Garden" which will allow existing and new customers to create Vertical Gardens on their 1000 & 2000 litre ThinTanks.
Each of the ThinPots will be fed by a drip irrigation system, which will be built into the current vertical spaces on the tanks.
These ThinPots can be used to grow vegetables, or for colourful flowers which can be used as a cover for the water tank.
We are also in the final stages of matching the system with a solar powered pump which will be used to pump the rainwater through the fitted irrigation system to the ThinPods.
This pump system may also have a timer system installed which will allow watering times to be set for the Pods.
The ThinPots will make your ThinTank more than just a water tank.
Using the Vertical Garden option, you can turn your ThinTank into a creative work of art, or a constant food supply for your family.
To be placed on our notification list about this new and exciting product release please use the form below, once the details and pricing have been confirmed we will post you a special information pack on the ThinPot System.