Grey water is becoming an increasingly popular method of keeping gardens and lawns lush and green over the summer months and is one of the best ways to decrease the amount of fresh water used on your garden.
A great way to harvest grey water is with the EcoCare Grey Waste Water Diverter System.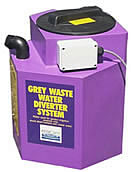 This compact (1/3sqm) semi-automatic system works by collecting water from a household's shower, bath, or washing machine. When the waste water is diverted into the system, the pump is activated, pumping the grey water to the garden. Complying to government regulations, the system will dump residual grey water every 24hours.
An average family of four can save between 360 litres and 700 litres of grey water per day for garden use. This would be enough to sustain most domestic gardens whilst decreasing the need to use mains water.
The ecoCare Grey Waste Water Diverter System is eligible for a $500 government rebate in Victoria, QLD & WA.
The ecoCare Grey Waste Water Diverter System meets all regulatory guidelines and is Watermark approved (license number PST20083).
For more information on the ecoCare Grey Waste Water Diverter System please contact us either by email or by phone 1300 885547