The average suburban garden can be fully irrigated with grey water produced by three washes each week from a 5 kilo top load washing machine.
Providing simple rules are followed, the garden will flourish.
Why Use Grey Water?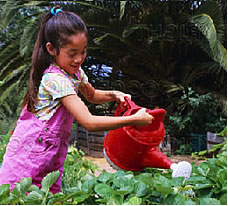 Water tanks are an asset and certainly useful when it rains but, if it doesn't…….
Not only does the use of grey water in landscaping conserve precious water, but grey water may actually be better for plants.
Used correctly, grey water can result in more vigorous vegetation..
Unlike a lot of ecological stopgap measures, reuse is a part of the fundamental solution to a major ecological problem.
Is The Use Of Grey Water Safe?
The risk of contracting a disease by using grey water in the garden is equal to the risk of contracting a disease by soaking in a bath, or getting hands wet by contact with water in a washing machine. This isn't meant to infer care should not be taken.
The GreytoGreen user manual illustrates precautions to be observed when using greywater.
Installed For Convenience
The GreytoGreen system is only installed by professionals.
Irrespective of slope in the site to be irrigated, hydraulic controls ensure each section receives adequate water.
Where appropriate, the system includes a self-activating pump capable of irrigating to 5 metres above the greywater source. The pump is also used for irrigation of flat sites requiring extended distribution lines and lawns.
Hydraulic controls are used to ensure each section of the garden receives the correct volume of irrigation.
Site Suitability
When a dealer visits a site, the factors taken into account are:
Not all sites are suitable for grey water diversion. Excessively sandy or clay soils, immediate adjacency to natural water courses, location of the greywater source relative to the garden are a few of the factors taken into account.
Your certified retailer can advise on site suitability.
Garden Size
The size of the garden to be irrigated determines the amount of grey water required. This in turn determines source/s and frequency.
Sub-surface irrigation only requires 15%  to 25% of that used with surface watering.
Permits And Approvals…

The NSW State Government control grey water legislation.
Watermark certified systems do no require permits or approval.
The GreytoGreen diversion system meets Australian compliance standards. It is listed on the NSW Dept of Health web site and is Watermark compliant.
Non-certified systems require council approval prior to installation.
A licensed plumber is required for connections to waste at every installation.
Costings…
A fully installed system on a flat site in an average Sydney garden costs about $3,500 upwards including plumbing services.
Installation on an average site takes about one and a half days.
The Garden Solution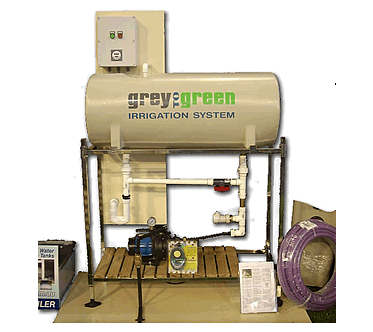 A comprehensive overview of the GreytoGreen system is available on CD. Use our contact details to request a copy.
A list of suitable washing detergents compiled by LanFax Laboratories is also included.
It took two years of development for GreytoGreen Pty Ltd to produce a diversion system capable of irrigating (nearly) any site. The company is known to all relevant State Government departments.
More Water Saving Products