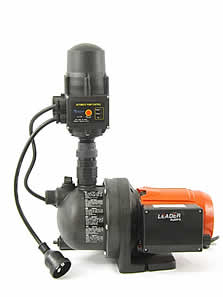 The Eco-Water Jet Pump is suitable for supplying up to 3 tap outlets at 100kpa.
This pump is in our budget range of rainwater tank pumps and we recommend it when a simple garden installation is required.
However in saying that, this is a pump that has been engineered extremely well and offers not just good value but quality and reliability. This is suitable for anyone that wants to maintain a typical Australian backyard or even a small home.
This is where the tank is to supply one or two garden taps only and high pressure is not really required.
Pump Features Include:
Self Priming Operation
DIY Installation Is Possible With Our Water Pump Connection Kits
Carbon Ceramic Seal
Run Dry Protection
Built-In Non Return Valve
Auto Stop/Start Operation
Manufactured To Australian Standards.
Specifications
Power Absorption: 600 (w)
Max Head: 38 (m)
Performance: 3 (taps)
Max Flow Rate: 40 (L/MIN)
Inlet Size: 1 (inch)
Outlet Size: 1 (inch)
Weight: 6.0 KG
This is an all round high quality self priming water jet pump that is suitable for all residential areas and can be used to connect laundries, toilets and even garden areas.
Model

Leader Eco-Water Jet Pump
Delivery
Warranty: 2 Year Warranty
Price: $283.00 use discount code EcoWater-1 and call 1300 885547 to get our best online price.
Click This Link To View The DATA Sheet As A PDF Download
The Eco-Water Jet Pump is a reliable and quality made water pump which has found a ready marketplace here in Australian homes and businesses.